Cawarden started from humble beginnings in 1986 with Founders, William Crooks and Richard Parrott, taking on their first demolition and reclamation project.
Back then, the re-use of building materials was virtually non-existent. William and Richard were unfashionably keen on recycling and saw an opportunity to reclaim building materials and sell them for re-use. From this idea, Cawarden was born.
As the business grew, new opportunities opened up and William and Richard lived and breathed Demolition and Recycling. Change was on the way for the Demolition Industry and Cawarden was at the fore of this.
In 2001, William took over the reins to fulfil the role of Managing Director and Richard continued to follow his passion for reclamation.
Through William's leadership, Cawarden has adapted to many changes over the years through various economic cycles and advances in industry practice.
Sons of William, Oliver and Samuel, developed their love for the industry from a young age and frequently visited sites to see the "big machines" in action. Samuel formerly joined the business in 2012 and Oliver in 2013. The brothers have worked hard to get to where they are today, beginning their careers on-site and rising through the ranks from there.
We are proud of our roots and where we have come from. But, we've evolved from a Demolition Sub Contractor by extending our expert capability. Today, we're a Specialist Contractor providing integrated 'Destruction to Construction' services.
A look back in time at some of our achievements through the decades.
Burslem, Staffordshire
2021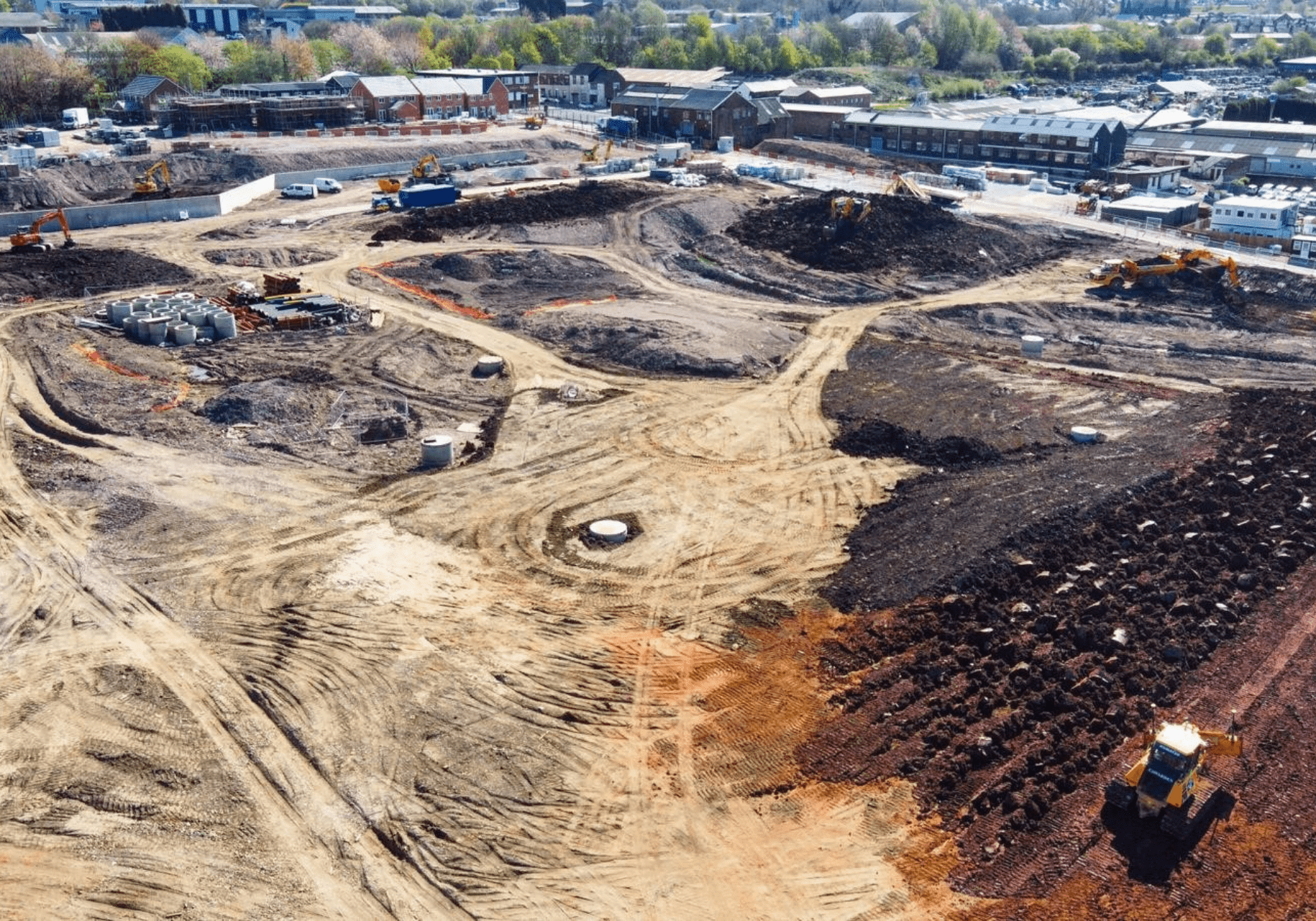 Remediation and demolition works at a 13.5-acre site at the former home of Royal Doulton Pottery. Over 200,000 cubic metres of grounds and soils being re-engineering to prepare the site for future development.
Cawarden Strengthens Board of Directors
2021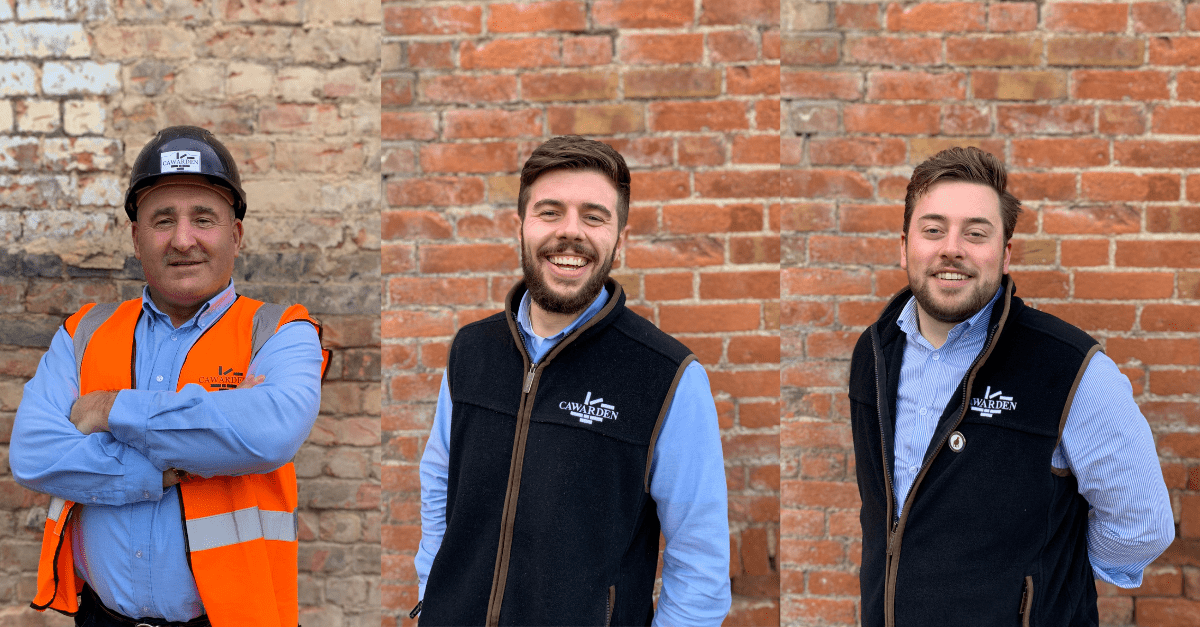 Malcolm Lowes, Oliver Crooks and Samuel Crooks joins the Cawarden Board of Directors.
Former Debenhams Store, Derby
2020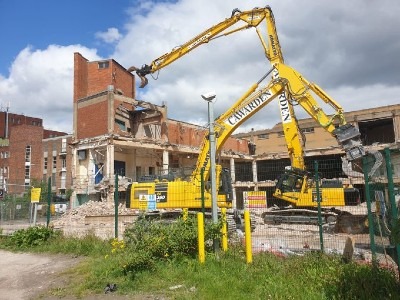 Asbestos removal, demolition and site clearance of the former Debenhams store in Derby city centre to clear the way for a £200 million regeneration project.
Wyvern footbridge over the A52 in Derby
2019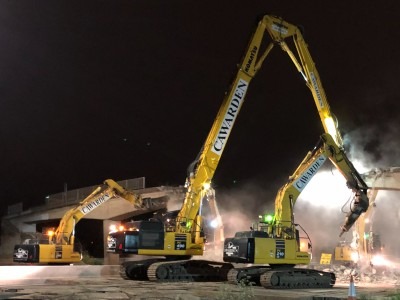 Demolition of the former Wyvern footbridge over the A52 in Derby. The works were completed ahead of programme allowing the roadway to open a day early.
Copthorne Barracks, Shrewsbury
2019
Clearance of the 14-acre Copthorne Barracks site where over 300,000 bricks, large amounts of slates and timber was reclaimed.
IMEX Business Park, Burton upon Trent
2018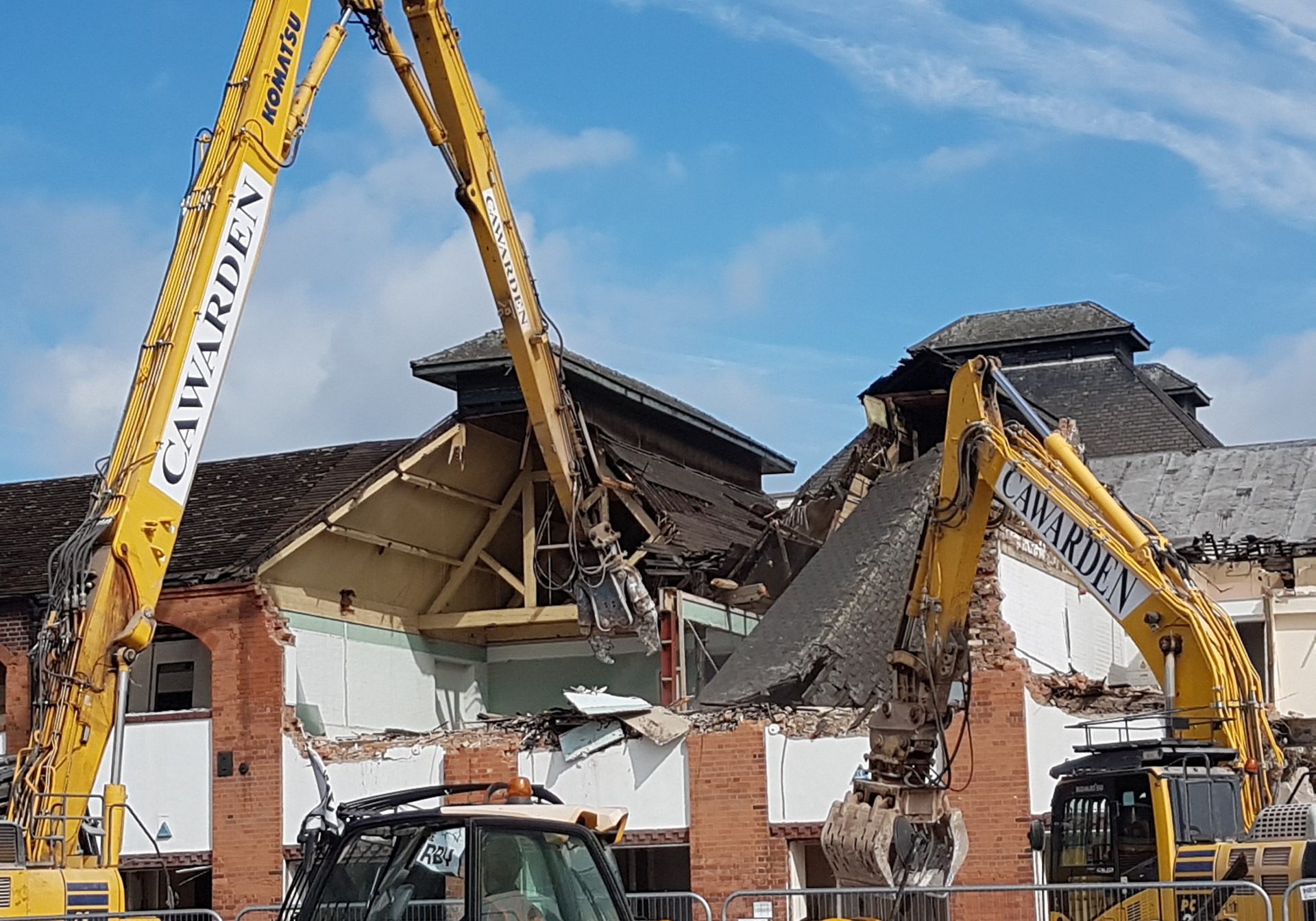 Demolition and asbestos removal work begins at the former IMEX Business Park.
Cawarden makes the top 100 global demolition contractor listing
2017
In the top 100 global demolition contractor listing, Demolition & Recycling International – Cawarden reached position 80 in 2017.
Derbyshire Police HQ, Ripley
2016
Asbestos removal and demolition of the former Derbyshire Police Headquarters in Ripley.
Order placed for Komatsu's new PC490 LC-10 high reach.
Derby & Leicester Royal Infirmaries
2015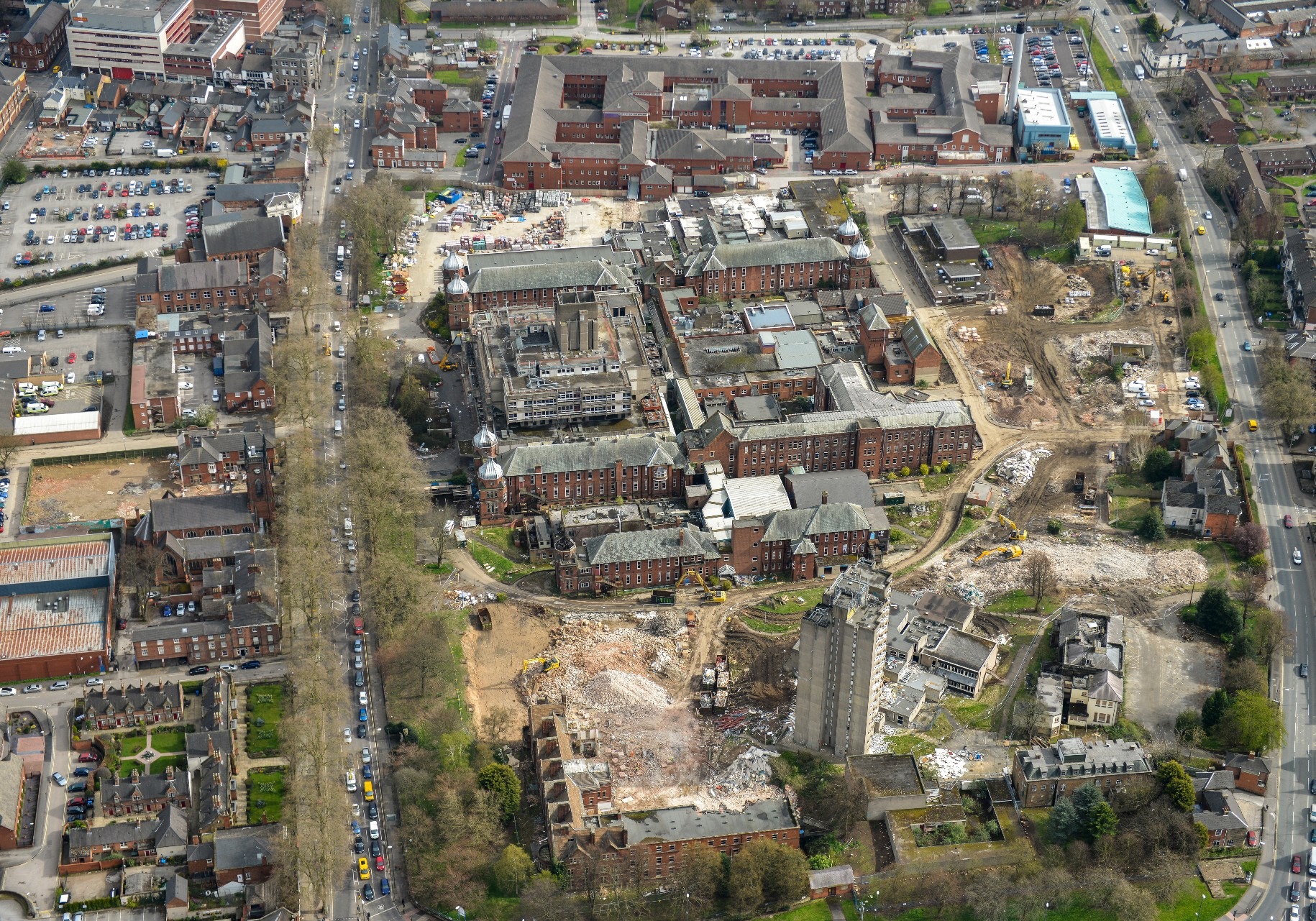 Cawarden is awarded major projects at Derby and Leicester Royal Infirmaries.
Project secured to demolish the former Prodrive site in Banbury.
Former East Midlands Electricity Board, Derby
2014
Demolition of the former East Midlands Electricity Board site in Derby.
Demolition of the Saltergate football ground – the former home of Chesterfield FC.
Ideal Heating Foundry, Hull
2010
Demolition of the Ideal Heating Foundry.
Demolishing quarry sites all over the UK for Tarmac.
Duckworth Square, Derby
2004
An early phase of the Becketwell Regeneration Project in Derby city centre.
Home of Derby County FC
2003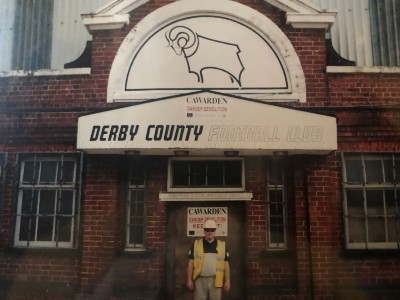 Demolition of the Baseball Ground, now the home of Derby County FC.
Raleigh Bikes Factory, Nottingham
2000
Demolition of the Raleigh Bikes Plant for Nottingham University.
Dairy demolition, Nottingham
2000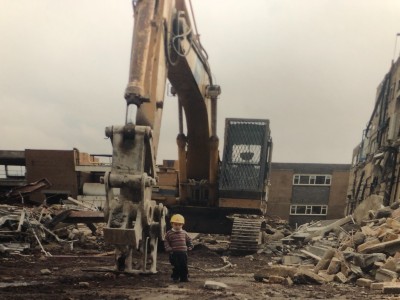 A young Samuel Crooks pictured at a dairy site in Nottingham.
Ground contamination, Cornwall
1998
Cawarden's Asbestos Division working on ground contamination in Cornwall.
DAF Trucks Factory, Dunstable
1998
Factory demolition on behalf of Wilson Bowden Developments.
Aircraft dismantlement, Bruntingthorpe
1997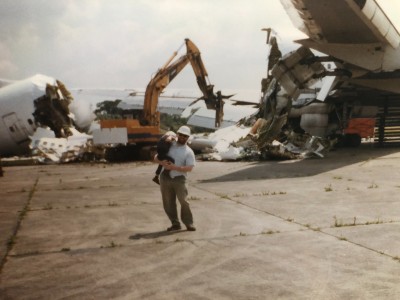 William Crooks pictured with young Oliver Crooks on-site at Bruntingthorpe as a disused 747 is dismantled.
First Bowmer & Kirkland project award
1996
Industrial strip out and demolition project for Bowmer & Kirkland. The beginning of a long-standing client relationship.
Cooper's Corset Factory, Ashbourne
1994
Demolition of the former corset factory in Ashbourne to clear the way for a new Sainsbury's supermarket.
Toyota Factory, Derby
1994
Demolition of all farm buildings at the site of the new Toyota factory in Burnaston, Derbyshire, working direct for Toyota UK.
Yorkshire Collieries
1992
Demolition of brick buildings at Yorkshire Collieries for Cat Plant Ltd.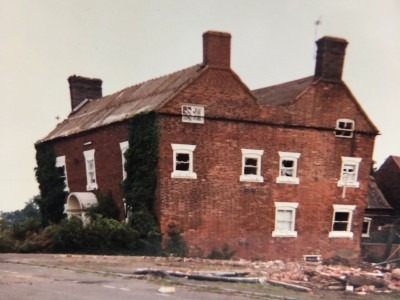 Working on behalf of Fina Petroleum to help clear the way for the M42 at Tamworth.
The beginning of investment in in-house resources. Cawarden bought its first machine – a JCB 3C111.
First demolition & reclamation project
1986
First demolition and reclamation project on farm buildings.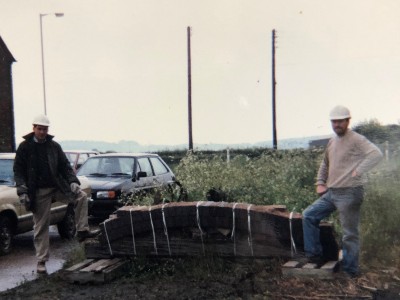 William Crooks and Richard Parrott founded Cawarden.