We are committed to improving the image of construction.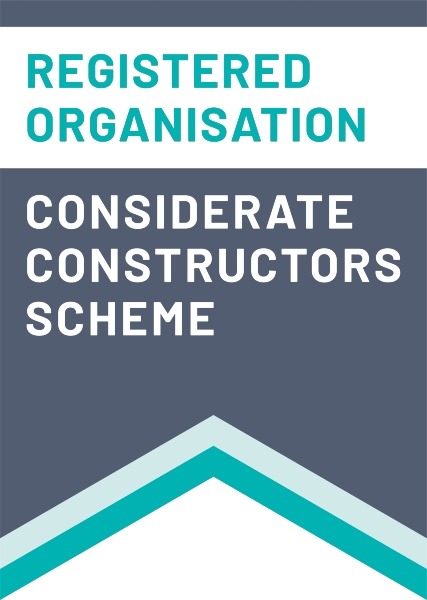 As part of our commitment to improving the image of the construction industry and adhering to the highest standards of performance and best practice, we are proud to be recognised as a Registered Company of the Considerate Constructors Scheme.
Considerate Constructors Scheme
Started in 1997, the Considerate Constructors Scheme was set up by the construction industry to improve its image. The Scheme is a non-profit-making, independent organisation founded by the industry, recommended by local authorities, the government, main contractors and major industry clients.
Code of Considerate Practice
As part of our registration, we commit to all areas of the Scheme's Code of Considerate Practice, which focuses on three key areas:
Respect the Community
Giving the utmost consideration to the impact on neighbours and the public.
Informing, respecting and showing courtesy to those affected by the work.
Minimising the impact of deliveries, parking and work on the public highway.
Contributing to and supporting the local community and economy.
Working to create a positive and enduring impression, and promoting the Code
Care for the Environment
Protecting and enhancing the environment.
Identifying, managing and promoting environmental issues.
Seeking sustainable solutions, and minimising waste, the carbon footprint and resources.
Minimising the impact of vibration, and air, light and noise pollution.
Protecting the ecology, the landscape, wildlife, vegetation and watercourses.
Value their Workforce
Providing a supportive and caring working environment.
Providing a workplace where everyone is respected, treated fairly, encouraged and supported.
Identifying personal development needs and promoting training.
Caring for the health and wellbeing of the workforce.
Providing and maintaining high standards of welfare.