We're committed to being a considerate and caring member of the community.
From the initial letter to the near completion, we have been kept updated of timescales, any noisy activities and general information. The noise, dust and waste have been kept to a minimum and the site staff have always been very helpful and courteous.
In a tight space with lots of public interaction, you have been clean, tidy and thoughtful to the locals. The construction industry gets bad press when they don't perform well so I would like to thank you and long may your good work continue.
D.GILLETT, RESIDENT
Community Relations
At Cawarden, we build strong relationships with our neighbours through proactive community relations and giving the utmost consideration to the impact of our works.
Ensuring a sensitivity to local residents and maintaining the uninterrupted operations of local businesses; our site teams will keep all local stakeholders informed and updated on the works taking place. And if any issues do arise, we'll always do our best to quickly and efficiently resolve them. It's our promise.
Charities & Good Causes
One of the greatest rewards of our success is that we are able to support many worthy causes.
We've raised tens of thousands of pounds over the years for several local Derby charities, including the Padley Group and The Titan Children's Trust.
From the Lighthouse Construction Industry Charity Christmas Lunch, the EEM Building Communities Awards, and the Poppy Fields Music Festival in association with The Royal British Legion, we're pleased to support a variety of charitable events to help raise vital funds for a range of good causes.
Supporting Local Communities
We help boost regional economies by maintaining a reliable and trusted local supply chain. So, from skips to site welfare, we'll support local businesses whenever we can – providing they meet our strict ethical and procurement requirements.
Much of our workforce comes from in and around Derby and we're proud to be a major industry employer of the region.
We're lucky Cawarden HQ is located on a picturesque working farm. Our love for the land and the environment means we're especially passionate about environmental and conservation efforts. We love to get involved in projects that allow us to give back to benefit local communities.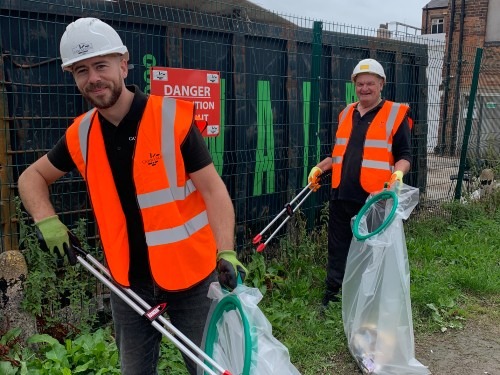 Keep Britain Tidy 2020
Staff from Cawarden's Derby city-centre site collected rubbish from around the site perimeter in support of Keep Britain Tidy 2020. Over 25 bags of rubbish were collected for later sorting and recycling. The initiative helped clear the local area from rubbish to improve the surroundings of the local community.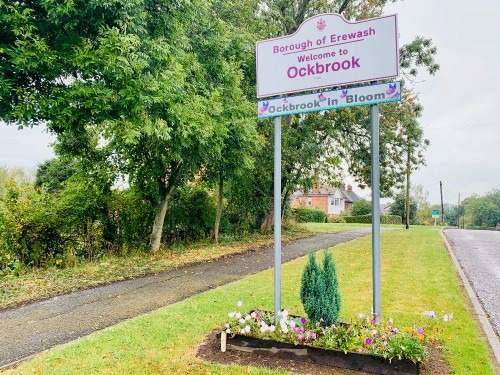 Ockbrook in Bloom 2019
Cawarden's Headquarters are located in the Derbyshire village of Ockbrook. So, when we were given the chance to support the 2019 Ockbrook in Bloom event, we jumped at the chance.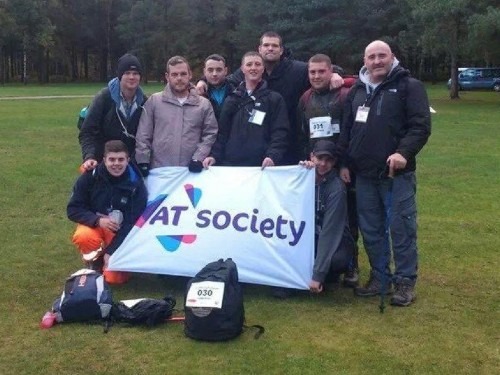 Ataxia-telangiectasia Charity Walk
A team from Cawarden took part in an 18-mile charity walk for the AT Society to help raise vital funds to support people living with the disabling and life-limiting condition, ataxia-telangiectasia.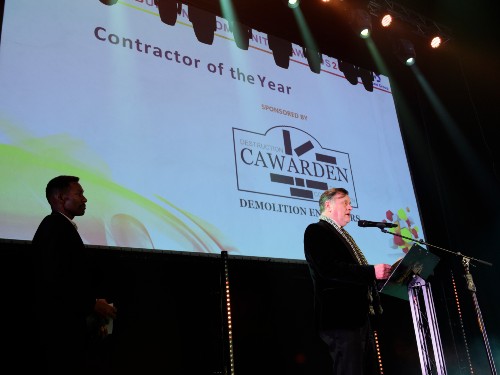 EEM Building Communities Awards
Cawarden has been a main sponsor for the EEM Building Communities Awards for the last three years. In 2020, Managing Director, William Crooks, presented the coveted Contractor of the Year award. The event helped to raise an amazing £43,000 for two fantastic charities, BulliesOut and FOCUS. More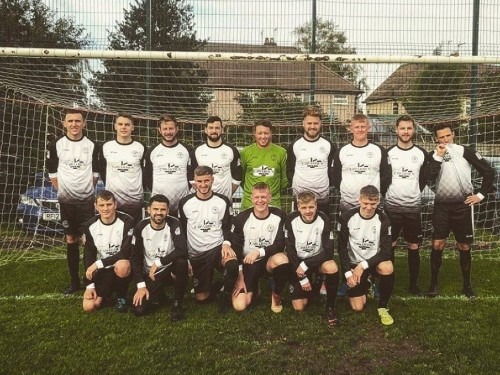 Castle Donington FC Sponsorship
Cawarden is the primary sponsor of the Sunday Men's team for our local and much-loved club, Castle Donington FC. Our sponsorship for the Club will continue into 2021.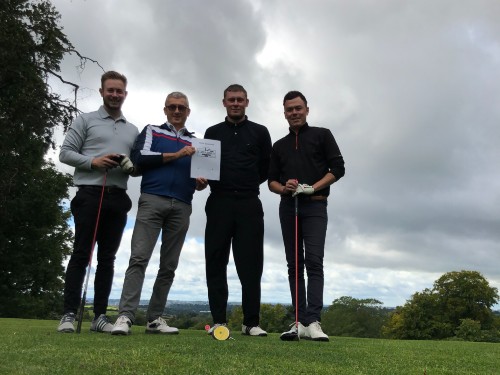 Charity Golf Day
Keen golfers represented Cawarden at a charity golf day organised by Miller Homes, the leading North West homebuilder. All proceeds raised during the event were donated to the Habitat for Humanity charity.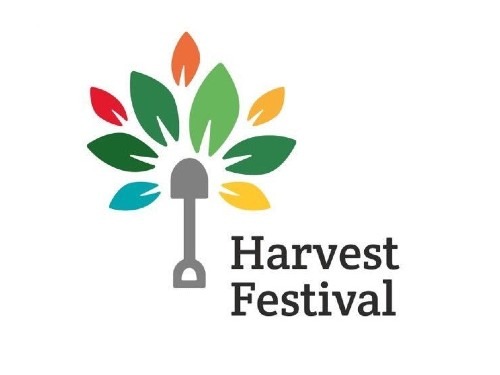 Titan Trust Harvest Festival
In partnership with our friends at Ivy House Environmental, we organised a Harvest Festival within the grounds of our Ockbrook Headquarters. Guests enjoyed an afternoon out of the office to attend the networking event which was well attended by over 20 organisations from the property and construction sector. The event was held in aid of a local charity, The Titan Children's Trust.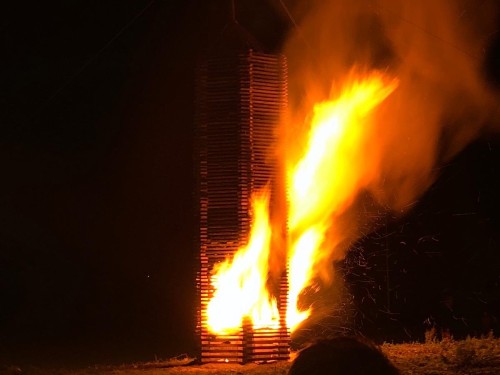 Melbourne Beacon WW1 Commemorative Structure
Cawarden supported the construction of the Melbourne Beacon in memory of those who sacrificed their lives in the First World War. We supplied all the timber required to construct the commemorative structure.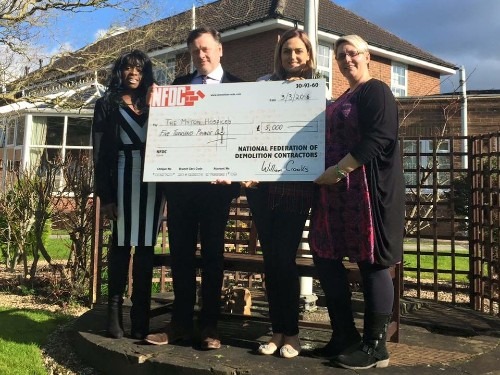 Myton Hospice
Cawarden Managing Director and Vice President for the National Federation of Demolition Contractors, William Crooks is pictured presenting the Myton Hospice with a cheque for £5,000.