Thursday January 6, 2022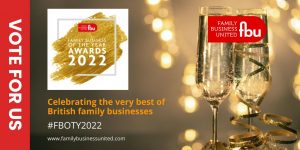 Getting the New Year off to a fantastic start, Cawarden has been shortlisted and is now in the running for the 2022 Family Business of the Year Awards. In addition, Cawarden is also up for the 'People's Choice Award' which is determined solely by public vote.  
The Family Business of the Year Awards were created in 2012 to celebrate the UK family business sector, to recognise the diversity of family firms across the country and to celebrate the contribution that they make.
These prestigious awards are now in their tenth year and have become an integral part of the family business calendar #FBOTY2022
On 6th January, Family Business United announced the shortlisted family firms for the Midlands & Central region. One of these family firms is going to take the regional title in due course. They may then go on to become the next overall Supreme Champion Family Business of the Year for 2022, taking over the title from the winners in 2021, Arco.
Each year we are amazed at the nominations received and there are always some real gems that are fabulous ambassadors for the family business sector. The entries come from all over the UK and this year in particular, given the ongoing uncertainty and business challenges caused by the global pandemic and the general trading climate, we are delighted by the number of entries, and the diverse sectors that they represent too.
"I have said it before but family firms really are the backbone of the UK economy and across the UK they will be vital as the economy recovers from the events of the past few years. We look forward to finding out more about the family firms shortlisted for these awards and crowning some great winners in due course.
"The awards culminate in a ceremony taking place in June with awards for various categories, sectors and regions.  We look forward to crowning the 2022 winners of the Midlands & Central Family Business of the year in due course."
PAUL ANDREWS
FOUNDER OF FAMILY BUSINESS UNITED
The next stage in the process is for Cawarden to complete a submission for the judging panel to review and determine the winners.
2022 Midlands & Central People's Choice Family Business Award
To cast your vote for Cawarden as the Midlands & Central regional favourite in the People's Choice Awards, simply CLICK HERE – Thank you for taking the time to vote for Cawarden as your favourite family business!