Monday August 23, 2021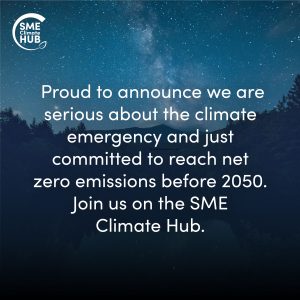 Derby-based Specialist Contractor, Cawarden has joined the SME Climate Hub and commits to halve greenhouse gas emissions before 2030 and towards net zero before 2050.
Cawarden announced today that they have joined the SME Climate Hub, a new groundbreaking one-stop-shop climate action platform for small and medium-sized enterprises (SMEs) to curb carbon emissions, build business resilience and take climate leadership.
The SME Climate Hub is co-hosted by the International Chamber of Commerce (ICC), the Exponential Roadmap Initiative, the We Mean Business coalition and the United Nations Race to Zero campaign, and has received support from several supply chain leaders, including BT Group, Ericsson, IKEA, Telia and Unilever, as well as funding support from Amazon and Verizon.
Cawarden has joined over 1,000 other signatories to the UN-recognised "SME Climate Commitment", which forms part of the SME Climate Hub. In making this commitment, Cawarden has pledged to halve its carbon emissions by 2030, achieve net-zero emissions by 2050 and to regularly report on progress towards these aims.
On the logic behind the company's decision to join the initiative, Managing Director, William Crooks, said:
Building sustainability into our business is key to our long-term survival. We are committed to tackling climate change and moving to a net-zero business before 2050 – and we've cemented this commitment by signing up to The SME Climate Hub. Whilst our pledge is one thing, we're setting targets, taking action and making progress and the Hub has a range of practical tools, knowledge and best practice resources to help businesses like Cawarden curb emissions.
"Alongside The SME Climate Hub, there are a number of other positive initiatives and trials also underway. Including our collaboration with the University of Derby, Derby City and Derbyshire County Councils on the De Carbonise Project. We also support the latest advice from the National Federation of Demolition Contractors (NFDC) which recommends for Members to switch to HVO fuel as a more sustainable and environmentally friendly solution to red diesel. We are already trialling Green D+ HVO and I am pleased with how it's going so we are planning to fully make the switch across our fleet by next year. As a result of making the switch, we'll save, on average, the equivalent emissions of 200 single flights to Sydney, Australia, per annum."
WILLIAM CROOKS
MANAGING DIRECTOR
Cawarden has always been passionate about reuse and recycling – for more than 35 years they've been doing it. But further reducing its impact on the environment, making a positive impact and supporting the shift towards a low carbon economy is top of the agenda.
To find out more about how Cawarden is making strides to becoming net zero by 2050, click here.
The SME Climate Hub was launched at the start of the UN General Assembly Week and New York Climate Week by the High Level Climate Action Champion for the United Kingdom, Nigel Topping and has received initial financial support from Amazon and Verizon, through their partnership with the We Mean Business coalition.
The SME Climate Hub will provide SMEs with a range of accessible tools and resources to help them reduce emissions and build business resilience. The platform will couple these tailored resources with opportunities for businesses to unlock direct commercial incentives – from government tax breaks to procurement preferences provided by major businesses such as BT Group, Ericsson, Ikea, Telia and Unilever, who have all agreed to work with their SME suppliers to improve climate performance and also provide concrete tools, share knowledge and exchange best practices for implementing robust climate strategies through the SME Climate Hub.
One of the most pressing existential threats to SMEs is climate emergency. It has the potential to slow economic growth by causing material damage; limiting resource availability; causing shifts in demand; leading to business interruptions and production disruptions; causing supply chain interference; and forcing business closures. With 40 to 60 percent of small businesses never reopening after a disaster, curbing carbon emissions and building business resilience is critical.
For more information about the SME Climate Hub, visit: www.smeclimatehub.org