Wednesday September 8, 2021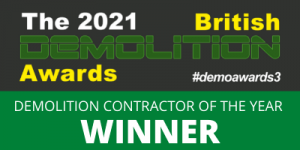 Derby-based Specialist Contractor, Cawarden has been crowned 'Demolition Contractor of the Year' at the third annual British Demolition Awards, a prestigious celebration of all things demolition, held on Friday 3 September at the American Express Community Stadium in Brighton.
The rigorous judging process involved the written submission of detailed evidence showcasing Cawarden's impressive projects carried out throughout 2020 – 2021.
In addition to recognising the challenging projects successfully carried out across the UK, the judges were won over by Cawarden's commitment to future-proofing the business and sustainability.
Cawarden demonstrated not only their huge commitment to completing quality and safe work but that of robust forward business planning and sustainability."
BRITISH DEMOLITION AWARDS JUDGES
We are all delighted to receive the Demolition Contractor of the Year Award. To be recognised by the independent panel of judges during a time that has been hugely disruptive and challenging for the business is fantastic. The award win is a testament to the dedication, resilience and adaptability of the entire Cawarden team over the last 12 months. During such uncertainty, the team has gone above and beyond to deliver a breadth of outstanding projects for our valued clients. Every challenge has been risen to and safety, quality and sustainability have always been at the fore."
OLIVER CROOKS
COMMERCIAL DIRECTOR
A total of ten awards were up for grabs on the night. The judging panel was made up of Richard Vann from specialist engineering consultancy RVA Group; Holly Price, Skills and Communities Director for Keltbray and former President of the NFDC; and Paul Argent, renowned demolition and construction journalist who works as Demolition Hub magazine's Demolition Editor.
The ceremony was attended by more than 300 guests, including a large proportion of all UK-based contractors and global machinery specialists. Also in attendance was the National Federation of Demolition Contractors (NFDC) leadership.
Watch the highlights from the event below and see the full list of winners HERE.