Monday August 22, 2022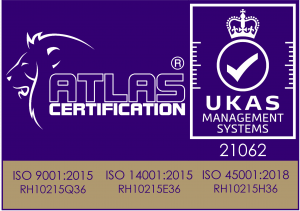 Cawarden has recently extended its suite of industry accreditations and certifications – underpinning its drive for unrivalled quality in its systems, operations, and the delivery of its services and exemplary projects.
Following approval from The United Kingdom Accreditation Service (UKAS), Cawarden has secured the International Standard Organisation (ISO) certifications for its Integrated Management Systems (IMS), following a rigorous auditing process performed by the accredited certification body, Atlas Certification.
Cawarden is now certified under the internationally recognised and trusted quality management systems, ISO 9001 Quality Management, ISO 14001 Environmental Management and ISO 45001 Occupational Health & Safety Management.
UKAS is one of the most respected accreditation bodies in the world and as such a certificate bearing their logo, the crown and tick, is held in high regard.
This is a significant achievement following several months of preparations led by Cawarden's Quality Director, Jonathan Groves, and Health & Safety Manager, Ryan Lowes. It cements Cawarden's commitment to delivery excellence, with the safety of all stakeholders and the protection of the environment at the fore.
Cawarden will be audited annually to ensure ongoing full compliance and high standards.
The ISO certifications recognise Cawarden's robust processes, procedures and systems have been designed and implemented with Health, Safety and the Environment as the utmost priority. They also demonstrate our ethos – to drive continuous improvement across the business and provide best-in-class services to our clients.
Being internationally recognised as a quality assured business provides further confidence to our clients and we look forward to welcoming new opportunities and bringing the business to new heights in the months and years to come.
I would also like to thank Michael Lunn from MLISO Ltd, ISO systems and management expert, for his valued input in helping us achieve these accreditations."
JONATHAN GROVES
QUALITY DIRECTOR
Cawarden has been a pleasure to deal with. Professional, attentive and conscientious, whilst maintaining a relaxed working relationship. I would like to congratulate them on their certifications and wish them all the best for the future."
MICHAEL LUNN
MLISO LTD