Wednesday September 7, 2022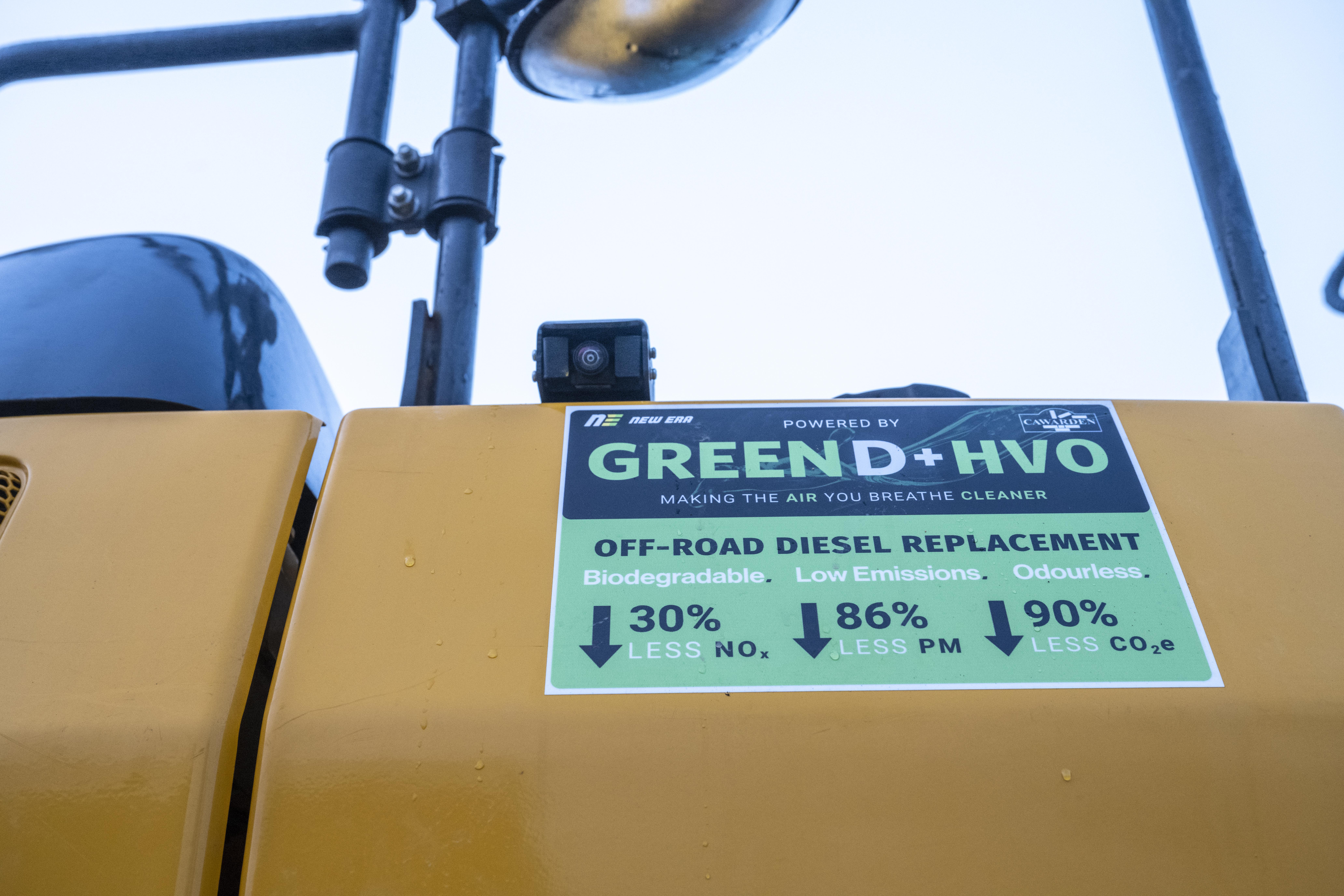 Cawarden has made substantial strides in reducing its carbon emissions – achieving a 67% reduction overall so far.
The reduction has been achieved in just ten months following an emissions audit and the successful trial of a new eco fuel, Green D + HVO (Hydrotreated Vegetable Oil). The fossil-free, paraffinic fuel made from 100% renewable raw materials is made from waste fats and vegetable oils, making it a more sustainable and environmentally friendly alternative to diesel.
Based on the success of the initial trial last year, a phased transition and roll-out of HVO across Cawarden's extensive fleet of industry-leading excavators and site machinery has been taking place.
HVO has the potential to eliminate up to 90% of net carbon dioxide compared to diesel and without any modifications to existing engines.
It also significantly reduces nitrogen oxide, particulate matter, and carbon monoxide emissions.
Cawarden has been working collaboratively with commercial fuel and lubricant supplier, New Era Fuels, and was one of the first companies to sign a 12-month contract for the supply of 300,000 litres of fuel.
The initiative is all part of Cawarden's de-carbonisation journey and supports clients in reducing the carbon footprint of their projects. It also matches guidance released in 2021 by the National Federation of Demolition Contractors (NFDC) which recommended its members switch to HVO fuel as a more sustainable and environmentally friendly solution to white diesel.
Cawarden is committed to reducing its impact and achieving its net-zero target – a commitment that has been cemented by joining the SME Climate Hub and signing up to The Climate Pledge – a formal commitment to reach net-zero by 2040, or 10 years ahead of the government's target.
The Environment Agency, which introduced Cawarden to the De-Carbonisation Project partnership, was recently invited by Cawarden to visit one of their South Derbyshire demolition sites. It was an opportunity to learn more about the progress and achievements to date.
To put it into context, we've saved the equivalent emissions of 94 single flights to Sydney, Australia, or 1,072 metric tonnes of carbon – so far.  It's enormous progress in such a short amount of time and it was great to invite the Environment Agency to site so they could see our machines in action – all powered by HVO.
Reducing our impact on the environment is an ethos that has underpinned the business and the Cawarden Family has stood by it for almost four decades.
Through our De-Carbonisation Project partnership with the University of Derby, Derby City and Derbyshire County Councils, which we joined in 2020, we have a clear road map, recording and monitoring regime for our net-zero journey.  The roll-out of HVO and achievements in reducing our greenhouse gas emissions is a major step forward – and it will complement other initiatives we have in the pipeline to decarbonise the business."
JONATHAN GROVES
QUALITY DIRECTOR
Cawarden has made a significant step forward in its de-carbonisation journey, and it was great to learn more about and see first-hand how they are decarbonising their day-to-day operations. We hope that through their work they inspire other firms to follow their lead. I would like to thank them for inviting us along to learn more about their initiative."
VICTORIA PROWSE
ENVIRONMENT AGENCY
While this is a positive step towards cleaner environmental ambitions, such a notable change also presents challenges – a major transition that needs to be planned and managed carefully.
HVO has been a great success in delivering positive change by reducing our emissions. We see this as part of the future for our Industry, linked with the development of cleaner engines by plant manufacturers. But we can only continue making strides in scaling up our HVO usage if the recent price increases in HVO return to being closer to white diesel. Currently, HVO receives the same duty and VAT as white diesel, so we look forward to the Government incentivising this greener fuel rather than making it a more expensive option.
As a business, we're keen to explore HVO alternatives and other innovations such as hydrogen or alternative powered plant and machinery, but we can only do so once they are available to our industry."
JONATHAN GROVES
QUALITY DIRECTOR