Monday September 12, 2022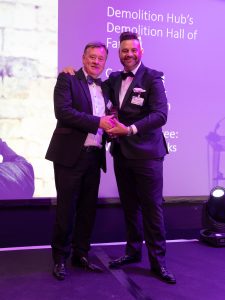 Managing Director of Cawarden, William Crooks, has been honoured with an award in recognition of his dedication to the demolition industry.
At the fourth annual British Demolition Awards, which were held on 2 September 2022 at Leicester City's King Power Stadium, William was invited to join the inaugural Demolition Hub Demolition Hall of Fame.
The Managing Director of Demolition Hub, Ben Chambers, presented William with the prestigious award. After which, William was invited to make a speech – some of which can be heard in the YouTube video below.
On the night, Cawarden also picked up an award for Environmental Innovation of the Year in recognition of the significant progress the business has made to reduce its carbon emissions.
Read the full report from the awards in the October issue of Demolition Hub magazine.
I've never won anything since 1976 when I won the 800-metre district champion and then my father told me I had got to start work. I started out with a big hammer and a pick-up and the rest is history.
Fast forward to 2022 – I couldn't imagine doing anything different – and I've just been presented with an award for my service and dedication to the demolition industry. I'm the first Hall of Fame Inductee at The British Demolition Awards.  What an honour.
It was great to share the moment surrounded by my wife Juliet, sons Oliver and Samuel and members of the Cawarden team – Jonathan, Emma, Moira, Mitch, Tom and Andy.
A huge thank you to Ben and the Demolition Hub team for putting me forward to be considered for this prestigious award and tremendous accolade. 
I'd also like to say a big thank you to everyone across the industry, clients, suppliers, business friends, the NFDC, NDTG and IDE, and last but not least, my Cawarden family.  Thank you. I've been overwhelmed by the messages of support received.
It was a fantastic evening remembering all that is great about the industry and celebrating the achievements of all the individuals, suppliers and contractors that have gone above and beyond over the last 12 months. Congratulations to all those who received an award on the night.
The awards are a wonderful reminder of the pride and passion we all have for asbestos removal and demolition. We're at the front of the construction industry. Together we can continue to achieve great things and I'm very proud of how far we've come and the opportunity we have to continue leading from the front – innovating, reducing our carbon footprint, giving back to our communities and always showcasing the professionalism and expertise of the industry.
Onwards and upwards."
WILLIAM CROOKS
MANAGING DIRECTOR
CAWARDEN