Thursday July 15, 2021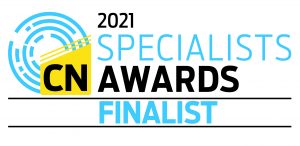 Derby-based Specialist Contractor, Cawarden has been selected by the judges as a finalist in the 'Demolition Specialist of the Year' category of the 2021 Construction News Specialists Awards.
The shortlisted entry showcases Cawarden's business performance between January 2020 and June 2021 and confirms its place as one of the UK's leading demolition engineering specialists.
The shortlist, which was revealed today, sees companies from across the industry specialisms competing for 20 awards.
Now in their 17th year, the CN Specialists Awards are the only national awards recognising the outstanding achievements of specialist contractors and highlights the inspirational businesses and work found across the industry.
The winners will be announced on 19 October 2021 at a gala dinner ceremony at The Brewery in London. The awards will bring together the biggest names in the construction industry to celebrate the specialist contractors shortlisted.
The judging process highlights the very best inspirational businesses and projects and each category has its own independent panel of judges, made up of major contractors and industry figures, who read entries to create the shortlist and review to select the winners for that category. 
Among more than 50 industry expert judges this year are representatives from some of the UK's largest contractors and clients including Lendlease, Kier, BAM Construction, Willmott Dixon and Bouygues UK.
I am delighted to see Cawarden named amongst all the finalists, but in particular, alongside two other demolition contractors who both deserve their place on the shortlist.
"The shortlisting is a testament to the hard work, resilience and adaptability of the entire Cawarden team over the last 12 months. During such uncertainty, the team has gone above and beyond every day to deliver on our promises – project after project. Every challenge has been risen to and safety and quality have always been at the fore."
WILLIAM CROOKS
MANAGING DIRECTOR