Wednesday July 19, 2023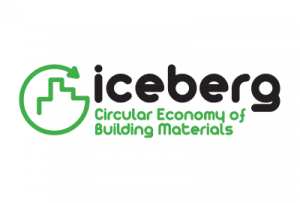 Cawarden has taken part in a circular plasterboard case study in partnership with Loughborough University, ENVA and British Gypsum.
Cawarden has recently completed the demolition and site clearance works at Loughborough University's Sir Arnold Hall Building. As part of the pre-demolition works, all plasterboard removed during the internal strip out was sent to ENVA to be treated using a novel purification to produce high-purity gypsum (> 96%) – something that is not currently possible from refurbishment and demolition plasterboard waste recycling. By producing high-purity gypsum, new circular plasterboards with 35% recycled content will be manufactured.
The initiative is all part of an EU Horizon 2020 project, ICEBERG, which aims to improve the economic viability and market potential of end-of-life building materials. It provides designers, manufacturers, builders, and recyclers with advanced smart and technological CE solutions leading to more efficient, competitive processes, higher traceability, market acceptance, and higher levels of material circularity.
Gypsum is the main constituent of plasterboards used in building applications. Although gypsum can be recycled indefinitely, the amount of recycled gypsum from refurbishment and demolition plasterboard waste that can be incorporated into new plasterboards is limited. The presence of impurities introduced by additives, lining paper and paint limits the amount that can be recycled.
Through the ICEBERG project, a novel purification treatment based on acid leaching has been developed by Loughborough University in collaboration with ENVA. This allows for an increase in the recycled content of new plasterboards from the current 10%, which uses only recycled gypsum from "clean" construction plasterboard offcuts, to 35%, using the ICEBERG purified gypsum.
From the plasterboard recovered and recycled by ENVA from the Sir Arnold Hall Building, new circular plasterboards containing the ICEBERG purified gypsum will be manufactured by British Gypsum. The new plasterboards will then be installed in a new development on the Loughborough University campus and will undergo assessment and performance testing as part of the case study.
As a matter of best practice, we already segregate all recyclable waste from our projects, including plasterboard, and we achieve an average recycling rate of 98% on our projects. It has been pleasing to take part in this trial that will deliver new technologies to create new circular plasterboards from old. We will be avidly following the results of the circular plasterboard case study, which we hope is a great success."
JONATHAN GROVES
QUALITY DIRECTOR
CAWARDEN
Working closely with ENVA and British Gypsum in the EU-funded ICEBERG project, Loughborough University has developed novel purification treatments at laboratory level based on acid leaching to attain high recycled gypsum content to be used in new circular plasterboards. The optimum laboratory-scale gypsum waste purification process led to a recycled gypsum product with consistent high purity levels (above 96%). The gypsum purification process developed at laboratory scale has been validated for commercial application through pilot-scale trials. Additionally, the environmental impacts of the process wastewater have been optimised through the valorisation of precipitated impurities and treated water. Cawarden was involved in the pre-demolition audit and dismantling and segregating demolition plasterboard at Loughborough University's Sir Arnold Hall Building. A semi-industrial gypsum purification plant designed to upscale the laboratory scale purification process of gypsum waste has been completed to be implemented at ENVA's site by processing 40 tonnes of demolition plasterboard in summer 2023. The resulting ENVA's purified gypsum waste will be sent to British Gypsum (now Saint-Gobain) to manufacture 1,000m2 circular plasterboard, which will be installed in a building at Loughborough University in January 2024."
PROF MOHAMED OSMANI
PROJECT LEADER
LOUGHBOROUGH UNIVERSITY