Thursday July 6, 2023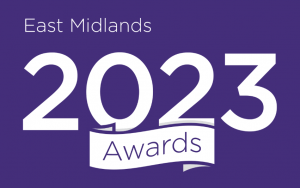 Derby-based Specialist Contractor, Cawarden, has been 'highly commended' at an industry awards ceremony in Nottingham.
In its first year of entry, the company was presented with the 'SME of the Year' 2023 Highly Commended trophy by Maz Patel, CEO of Scope Group, at the Constructing Excellence Midlands Awards.
Rodgers Leask, Morrison Design and Excelsior Land were also shortlisted, but it was Cawarden's work and ethos that shone through while Kori Construction took the top spot for the category.
We're all over the moon with this award. The recognition represents exceptional business growth over the past 12 months and all the hard work and dedication from everyone on-site and in the office who goes above and beyond to deliver exceptional projects for our clients across the UK. Safety, quality, service and sustainability are always at the heart of everything we do. Thank you to Andrew Carpenter and all the team at Constructing Excellence for organising such a fantastic evening and ceremony in Nottingham to celebrate the best of the sector."
JONATHAN GROVES
QUALITY DIRECTOR
CAWARDEN
SMEs are the backbone of the industry and are recognised by Constructing Excellence for their dominance of and contribution to the supply chain.
Cawarden was also delighted to be in attendance as a sponsor for the 'Civils Project of the Year' award. Andrew Pickering, representative of Cawarden, announced the winning project 'Colliery Way' with the award presented to Balfour Beatty plc and Nottinghamshire County Council.
Each award is judged by panels of industry experts with a two-stage process involving written entries and interviews.
The Midlands Awards evening took place on Thursday 29 June at the Crowne Plaza in Nottingham and was hosted by Pamela Aculey – the award-winning author, entrepreneur and CEO of 'Just Like Me Books'.
The Constructing Excellence East Midlands Awards is an event that celebrates excellence and innovation in the construction industry and honours the outstanding achievements of companies, professionals, and projects shaping the East Midlands region. The awards recognise the remarkable contributions made by architects, engineers, contractors, developers, and other key players in the construction sector.
During the course of the night, an incredible amount of money was raised for Children with Cancer – a charity that plays a vital role in funding ground-breaking research into understanding – and ultimately conquering – childhood cancers.
To see the full list of winners please CLICK HERE.