Friday November 25, 2022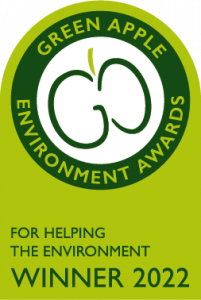 Derby-based Specialist Contractor, Cawarden, has triumphed at the International Green Apple Environment Awards 2022, scooping an award in the Building and Construction Regeneration category.
Cawarden's Managing Director William Crooks and Group Marketing & Communications Manager Emma Attwood joined a room full of like-minded sustainability leaders at the carbon-neutral presentation ceremony at The Houses of Parliament, London on 21 November 2022.
The highly sought-after award was presented to Cawarden in recognition of its sustainable project delivery at the former JCB factory site in Cheadle, Staffordshire. The large and complex project called upon Cawarden's expertise to restore the site for future housing development and included a broad scope of works including the demolition of bridges, ground remediation and earthworks activities.
The development of innovative protection measures were essential to ensure the existing watercourse – known locally as Cecilly Brook – along with the wildlife and aquatic habitats did not suffer as a result of the works. The measures included the temporary removal of fish to a receptor area and the design and implementation of waterway protection including a flume to temporarily dewater the work area whilst maintaining water flow.
But what makes this a stand-out project is that Cawarden also undertook a full restoration of Cecilly Brook so that the local wildlife and habitats could flourish and the local community could enjoy it for years to come. From the removal of contaminants, invasive plants, rubbish and fly-tipped materials to the rehabilitation of wildflower meadows and bank re-profiling works, Cecilly Brook has been beautifully restored and the legacy of Cawarden's work continues to thrive.
The Green Apple Environment Awards ceremony was hosted by environmentalist and motivational speaker, Phil Williams, owner of Plan-it Eco, who has given his life to promoting environmental awareness and encouraging people to live and work more responsibly and sustainably.
With a record number of entries this year, we're grateful to the judges for selecting Cawarden as a 2022 Green Apple Award winner. It was an honour to collect our award alongside a diverse range of organisations that were also recognised for their environmental achievements – including Balfour Beatty, Redrow, Keltbray, Northumbria NHS and Kier to name but a few.
This regeneration project has been particularly rewarding for us and sustainability was a major focus when we were designing the methodology to prepare the brownfield site for construction.
Our innovative approach meant that we were able to deliver our works safely and efficiently, whilst maximising the environmental benefits."
WILLIAM CROOKS
MANAGING DIRECTOR
CAWARDEN
As a result of Cawarden's Green Apple Award success, they have been invited to have their winning paper published in The Green Book, the leading international work of reference on environmental best practice, so that others around the world can follow their example and learn from their achievement. They could also progress to represent the United Kingdom in the Green World Awards 2022 and have 100 trees planted in their name as part of the United Nations Billion Trees initiative.
The Green Apple Awards began in 1994 and have become established as the country's major recognition for environmental endeavour among companies, councils, communities and countries.
The awards are organised by The Green Organisation – an international, independent, non-political, non-profit environment group dedicated to recognising, rewarding and promoting environmental best practice around the world.
The Green Apple Awards are supported by the Environment Agency, the Chartered Institute of Environmental Health, the Chartered Institution for Wastes Management, REHIS and other independent bodies.